Christmas Cheer Blitz
When you order "Your Inner Cheerleader" today you will receive bonus gifts valued at thousands of dollars all for under $15. Plus "The Twelve Cheers of Christmas" - a daily reminder of twelve things that will get your through the holiday in one piece.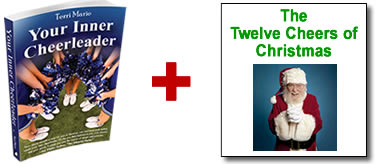 Learn the great techniques that have helped Terri Marie succeed in her game. Let her share them with you so you too can develop, create and use the power of your own inner cheerleader.
| | |
| --- | --- |
| | "I believe that each day you must do something to encourage yourself, just like you need to eat every day for nourishment. It is vitally important that it comes from you, from within. That will cause huge, positive changes in your life, from a source that can never be taken away." ~ Terri Marie |
"Your Inner Cheerleader" Review
"Instead of rah rah motivators, Your Inner Cheerleader delivers brilliant strategies for creating the best internal friend you've ever had. I especially loved the "Magic Moment" that a cheerleader takes before she acts. Terri Marie's book is easy to read, and clear to follow, but the concepts are beautiful game changers."
~ Catherine Van Dien, (Oxenberg) Award-Winning Actress
Win the Best Christmas Present - A Sedona Resort Vacation for 2!
| | |
| --- | --- |
| There are two very generous sponsors who believe so much in this book and these concepts that they are willing to give thousands of dollars worth of gifts for a special resort vacation drawing that one lucky person will win. Over $1,500 worth of hotel, spa, restaurant credit and even a world famous Pink Jeep tour! | |
DON'T WAIT - Get Your Copy Today!
We want to give you so much value that you can't wait to say "Yes!!!"... to the magic that will happen in your life with an Inner Cheerleader around. For less than $15 you can get thousands of dollars worth of bonuses, a chance to win the trip of a lifetime, extra bonuses and "The Twelve Cheers of Christmas!" A very inexpensive Christmas Gift indeed. But we have to tell you... the biggest gift is inside this book. These strategies are powerful game changers! If you or someone you know needs a cheerleader right now, here's your answer. You all have a cheerleader inside to develop. This is the instruction manual on how to use her.